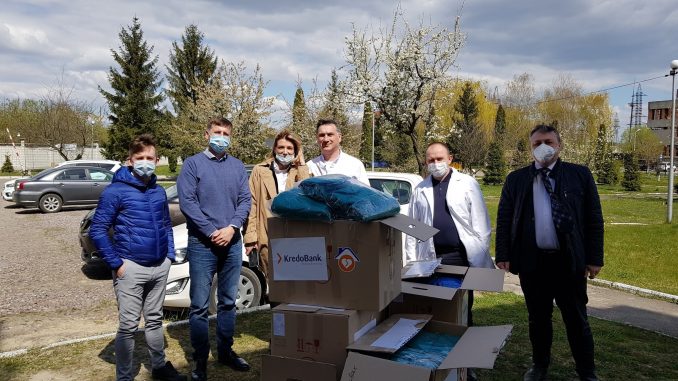 Kredobank , a member of the Ukrainian Union of Lessors, has allocated 3 million hryvnias to help hospitals in the Lviv region that receive and treat patients with coronavirus COVID-19. The allocated charitable assistance will be directed to the direct purchase of medical equipment for resuscitation and intensive care, as well as to the purchase of protective equipment and materials.
In particular, the funds provided by the bank will be used to purchase:
7 specialized beds for Stigelmeyer Evario intensive care unit with a total cost of about UAH 1 million for the Lviv Regional Infectious Diseases Clinical Hospital
Ultrasound diagnostic scanner Samsung HM70A worth 1 million hryvnias for the 8th city clinical hospital of Lviv;
Protective equipment, personal protective equipment and disinfection equipment for hospitals in Lviv region, designated by the Ministry of Health and the National Health Service of Ukraine for hospitalization of patients with COVID-19.
All purchases for the allocated funds will be made at the request of hospitals in April-May 2020. The first transfer of purchased personal protective equipment took place on April 22 for the Lviv Regional Hospital for War Invalids and Repressed named after Yuriy Lypa in Vynnyky.
"2020 has become a difficult test for the whole world and all of us. This year we hoped to celebrate the 30th anniversary of Kredobank in Ukraine, proudly showing our involvement in supporting Ukraine and Ukrainians. Instead, the coronavirus pandemic adjusted these plans. We believe that in the current environment our support is most needed by those who are on the first line of the fight against dangerous diseases, and decided to continue our initiative to help medical institutions "With a good heart" and help specialized hospitals in Lviv region that receive and treat patients with COVID -19 », – to speak in. at. Chairman of the Board of JSC "Kredobank" Jerzy Jacek Shugaev .
The initiative to help medical institutions "With a good heart" , launched in 2018, has become one of the largest areas of socially responsible activities of Kredobank. Thus, in December 2018, the bank donated a Hamilton C1 ventilator, electrocardiograph and infusion dispenser to Lviv Regional Children's Hospital "Okhmatdyt" , and in December 2019 – an incubator for newborns Air Incu I of the Japanese ATOM Medical Corporation and two patient monitors uMEC 12 maternity clinical house № 1, Lviv . The total cost of the equipment provided under the initiative is almost 1.54 million hryvnias.
Certificate:
JSC "Kredobank" was founded in Lviv in 1990, is classified by the National Bank of Ukraine as a systemically important bank and is part of the financial group PKO Bank Polski – the largest financial institution in Poland and one of the largest financial groups in Central and Eastern Europe. The dominant division of the group is the largest bank in Poland, PKO Bank Polski with a 100-year history, the most stable of the 48 banks in Europe according to the stress tests of the European Banking Authority (November 2018).
Kredobank offers a full range of services for retail clients, small, medium and large businesses in Ukraine. The bank actively lends to retail customers and small and medium-sized businesses, offering a number of special programs with a minimum interest rate. The bank has a credit rating on a national scale at the highest level uaAAA with a stable outlook and a short-term credit rating of the bank at the highest level uaK1 from the agencies "Standard-Rating" and "Expert-Rating".

Source