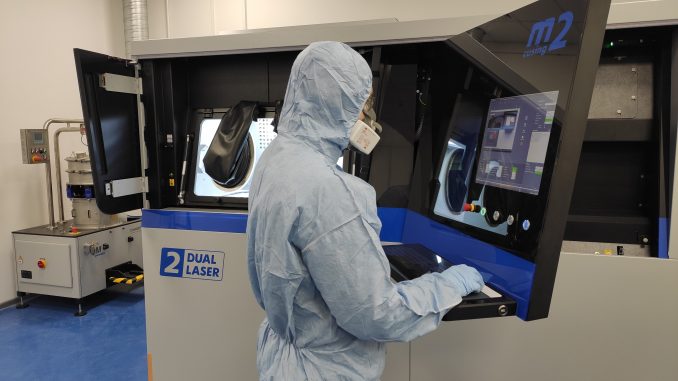 FOR THE FIRST TIME, SURGICAL IMPLANTS FROM TITANIUM ALLOY WILL BE PRODUCED IN UKRAINE BY 3D PRINTING
TAS Group of Companies has opened the first in Ukraine 3D Metal Printing Center "3D Metal Tech", which specializes in the manufacture of a wide range of serial and individual surgical implants made of titanium alloy.
Metal 3D printing technologies (alternative name – additive technologies) allow to make surgical implants (endoprostheses), which previously could not be produced by other methods due to their complex geometric, cellular or trabecular structure. Until today, Ukrainians could buy implants of this type only abroad. Due to the high cost and long waiting time, the number of operations using individually made implants was insignificant even in Kyiv.
From now on, thanks to the introduction of the TAS Group in the production of the latest technologies, additive implants will be manufactured in Ukraine, which completely imitate the natural structure of bone tissue, are better perceived by the body, light and comfortable in prosthetics.
Medical 3D printing technology has already started working at the 3D Metal Tech Center in Kyiv. Recently, the first batch of titanium alloy surgical implants in Ukraine was produced here, made on the most modern 3D printer "Concept Laser M2" from General Electric.
The purchase of this high-tech equipment was financed by the leasing company ULF-Finance, which is part of the TAS Financial and Industrial Group.
" Having studied the international experience and taking into account world trends, we decided to develop the direction of metal 3D printing in Ukraine , – said the chairman of the supervisory board of" ULF-Finance "Alexander Koshcheev. " With the help of equipment used by world leaders in medical endoprosthesis market Stryker (USA) and Lima (Italy), we plan to develop new products, making it easier for domestic consumers to access medical devices that were previously available only abroad ."
O. Koshcheev stressed that the 3D Metal Tech team consists of highly qualified engineers with many years of experience in the field of metal 3D printing: "Most employees have the degree of candidate and doctor of sciences , have gained experience working abroad . "
" We see ourselves as a modern manufacturing company that fulfills the orders of medical centers for endoprosthetics. We also help Ukrainian specialists to create serial high-quality products for mass operations, more affordable, – said Yaroslav Golovenko, director of "3D Metal Tech. " At the same time, we hope that the creation of our Center will provide an additional incentive for the development of new business areas, increase jobs, expand opportunities for training and internships for students and graduate students ."
To date, 3D Metal Tech has already signed agreements with leading orthopedic product developers and medical centers specializing in implants. The purpose of the company is to provide physicians with a ready-made implant according to the requirements and 3D-model of the customer. If necessary, 3D Metal Tech specialists can adapt the implant design to the capabilities of additive technologies (generative design).
In the future, the center "3D Metal Tech" plans to produce parts using 3D metal printing technology for other industries in Ukraine.
Additionally:
TAS Group of Companies is one of the largest financial and industrial groups in Ukraine, which actively invests in the economy of Ukraine. The group was founded in 1998 and is represented in the financial and industrial sectors, agriculture, real estate, venture and other projects.
ULF-Finance   is a universal leasing company that is part of the TAS Group and provides financing services for industrial equipment, transport, agricultural machinery, cars and trucks; acts as a financial partner of the largest suppliers of transport and equipment. The company has a network of representative offices in 18 cities of Ukraine.