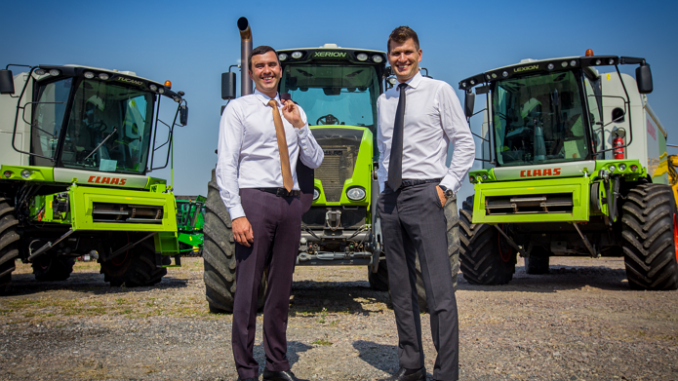 The farmer always dreams of new modern technology. Whatever the road, it is a good investment in the agricultural business. Where to get money for modernization without resorting to onerous loans and without withdrawing funds from circulation? Leasing comes to the rescue.
"Real financial support for your business" is a special project of Agravery.com and ESKA Capital about new opportunities for farmers. Here we tell about successful cases of small manufacturers on acquisition of powerful equipment.
Farmer Viktor Myalkivskyi has a farm with a total area of ​​22 hectares, which belongs to the whole family and is located in the Kyiv region of Bila Tserkva district. Viktor Petrovich is an ordinary farmer who started his agricultural activity in 2000. The farmer has wheat, barley and soybeans in crop rotation. The plans for the next year are to start growing corn. But this culture needs additional equipment.
Until recently, the farmer cultivated crops with very old equipment: a YuMZ tractor and a Soviet crawler DT-175M "Volgar". But over time, there was a critical need to equip the fleet with modern agricultural machinery: old tractors were worn out, constantly breaking down, so the farmer found it difficult to work on them, and he thought about modernizing the farm.
Purchasing new equipment is very expensive and currently the farmer does not have 100% money for a new tractor. Therefore, the best option for Mr. Victor was to purchase a tractor on lease under the new program "YTO Finance". We talked to Viktor Myalkivsky to find out how profitable it is today for small farmers to lease agricultural machinery, how the agreement procedure is carried out, and what interest rates are offered to the buyer. And most importantly – what are the farmers' impressions of the new YTO-ELX1054 tractor.
In the past, farmer Viktor had a bad experience of cooperating with a leasing company, when he was deceived by UAH 60,000. He wanted to lease the combine, but due to the dishonesty of the fraudulent company, he did not see any new equipment or his own money. Farmers have formed distrust of leasing companies in general. After some time, the farmer came to the agricultural exhibition, where he had the opportunity to meet the leasing company ESKA Capital.
"Arriving at the exhibition of agricultural machinery in Kyiv, I learned about the existence of the leasing company ESKA Capital. I really wanted a YTO-ELX1054 tractor, but I didn't have enough money to buy it. And then the manager at the exhibition told me about ESKA Capital and the fact that it is a financial partner of YTO UKRAINE. Despite the negative experience with leasing, I decided to try to use this financial instrument again. I was attracted by the new YTO Finance funding program, "says Viktor Myalkivsky. This program is very beneficial for farmers. "I am satisfied with the quality of services of the leasing company ESKA Capital, because nowhere else are there such conditions of financing and loyalty to customers, and the main thing is that I have restored confidence in leasing companies in general. ESKA Capital immediately issued all documentsI was very impressed with this approach to customers, "says the farmer.
The new YTO Finance financing program provides for the following installment terms: the client pays an advance of 40% and pays only $ 700 if the equipment is 50 horsepower; $ 800 if the equipment is 80 hp. and $ 1,000 – from 105 to 140 horsepower. This amount includes: insurance, tractor registration and all other mandatory payments, and the remaining 60% is returned by the client within 9 months. Without any interest payments, a tractor leased for a farmer in practice turned out to be a profitable investment in one's own agricultural business. Viktor Petrovich admitted that he did not even suspect that it was possible to lease agricultural machinery not only profitably, but also without unnecessary hassles and precious time.
The farmer is pleasantly surprised by his new YTO-ELX1054 tractor. The defining indicators of this tractor are its reliability and economy. This tractor has 105 horsepower, so the farmer is happy with its power. "It was a great joy for me that the new tractor has air conditioning in the cab. It is also quite powerful and has a high-performance 6-cylinder engine that can withstand heavy loads and not overheat. The 26% torque reserve guarantees that the tractor can easily work with large units in all conditions. If you compare the tractor with analogues, it has a level of fuel consumption lower by 20-25%, it provides savings on each cultivated hectare. Well, another nice bonus for me is the radio, as they say: "And work for joy" – shares his impressions Victor Myalkivsky.
Thus, leasing for farmers can really be a very profitable choice and convenient and transparent to start updating and expanding the fleet not only with agricultural machines that have already been used, but also with the best examples of global tractor construction. The main thing for a farmer is to properly assess their capabilities and needs, to find a lessor who will offer conditions that are beneficial to all parties to the contract. For Mr. Victor, the leasing company ESKA Capital was a find, which restored trust and offered very favorable financing terms.

Source