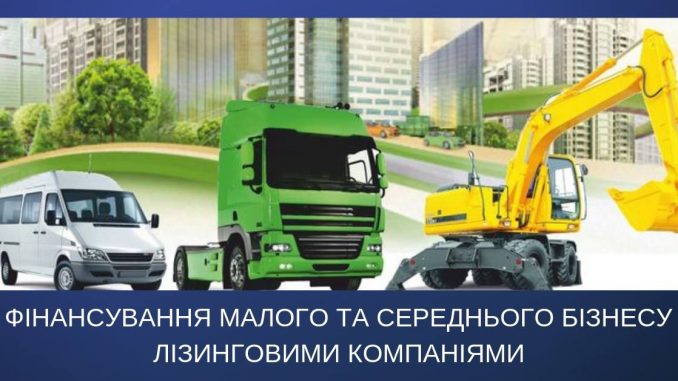 Leasing is one of the most popular financing tools in the world. It is flexible, fast and accessible even to companies with no credit history.
How to get funds for development and innovation can be found out at the leasing fair, which is held in 10 cities of Ukraine in parallel with training on the same topic.
Expert speakers will help participants understand how to grow their business by modernizing production and raising the level of service to the best standards.
Presentations on the essence of leasing, its advantages over the loan, as well as specific proposals and calculations of payments on leasing programs from leading companies of Ukraine will be brought to your attention.
For 9 months of 2018, Ukrainian entrepreneurs have leased equipment worth over UAH 17 billion. We also invite you to take advantage of the opportunity for favorable financing.
We invite representatives of small and medium businesses, local authorities and territorial communities, state-owned enterprises and institutions to participate in the fair. Pre-registration (via the link in the table) is free of charge.
Organizer: Association of Ukrainian Lessors Association Supported by USAID Financial Sector Transformation Project.
Information on the cities and dates of the SME Finance Fair
| | | | |
| --- | --- | --- | --- |
| City | Date | Location | Registration form |
| Odesa | January 22, 2019 | Black Sea Hotel in Shevchenko Park, ul. Marazlievskaya, 1/20 | http://bit.ly/2Sw5x1k |
| Mykolaiv | January 23, 2019 | Hotel «Reikartz River Mykolaiv », ul. Sportyvna, 9 | https://bit.ly/2SLhfFq |
| Kropyvnytskyi | February 05, 2019 | Kirovograd Chamber of Commerce and Industry, ul. Preobragenska, 79 | http://bit.ly/Krop_05022019 |
| Cherkasy | 06 February 2019 | Cherkasy Regional Council, ul. Shevchenko 185 | http://bit.ly/Cherk_06022019 |
| Zaporizhzhya | February 27, 2019 | Palace of Sports Youth, ul. Peremogy 66 | http://bit.ly/Zap_27022019 |
| Dnipro | February 28, 2019 | The Trade Union House, prospectus D. Yavornitsky 93 | http://bit.ly/Dnipro_28022019 |
| Lviv | March 13, 2019 | Dnister Hotel, ul. Yana Mateyka 6 Warning! Venue changed | http://bit.ly/Lviv_14032019 |
| Ivano – Frankivsk | March 14, 2019 | Hotel "Nadija", ul. Nezaleshnosti, 40 | http://bit.ly/Stanislav_13032019 |
| Kharkiv | April 10, 2019 | Fabryka Space Kharkiv, Blagovishchenska 1 | http://bit.ly/Kharkiv_20032019 |
| Vinnytsia | April 17, 2019 | Vinnytsia, ul. 600-richcha, 17, Megamall Shopping Center, 3rd floor, conference hall | http://bit.ly/Vin_16042019 |
Participation will be confirmed to each participant personally.
Draft Financing Fair Agenda
| | |
| --- | --- |
| 09.30-10.00 | Registration of participants. Welcome coffee. Start of SME financing fair. |
| 10.00-10.15 | Opening. Greeting. Press briefing |
| 10.15-12.00 | Presentations – «Financial and operational leasing: concepts and main characteristics. Calculation of lease payments. Leasing and Credit: Key Differences » – Leasing of cars (cars, minibuses, trucks, special equipment, municipal vehicles) – Leasing of agricultural machinery – Equipment Leasing / Used Car Leasing |
| 12.00-14.00 | Leasing companies fair. Direct communication of companies with business. Question and answer time. Coffee |
The presentations will focus on practical issues and examples of raising funds for the development of small and medium-sized businesses, and will therefore be useful for those interested in the following:
How to optimize cash flows and get equipment to maximize profits.
How to get a 100% tax credit when paying only the down payment?
What is a great alternative to a bank loan?
What should I look for when finalizing a finance lease?
A popular financing tool used by 43% of SMEs in the European Union and 8 out of 10 in the US.
How to get equipment and at the same time have an attractive balance for further lending?
How to choose a reliable leasing company?
At the fair of leasing products will be represented by leading companies of the industry – members of the Association "Ukrainian Union of Lessors". As of September 30, 2018, the total portfolio of leasing companies – members of the Association "Ukrainian Union of Lessors" is 15.186 billion UAH.
Help materials
Information about the volume of financing by the leasing companies – members of the Association at the link: https://bit.ly/2ToCPQ3
USAID Financial Sector Transformation Study – Leasing Industry in Ukraine: Trends and Recommendations for Growth at: http://bit.ly/LeasingUA_report_USAID
***
About the United States Agency for International Development (USAID):
In the world, USAID is one of the leading institutions in the field of development, which serves as a catalyst for these processes and helps to achieve positive results. USAID's activities are a manifestation of the charity of the American people, and support the advancement of recipient countries towards independence and sustainability, and contribute to the US national security and economic well-being. USAID has maintained partnerships with Ukraine since 1992; during this time, the total cost of assistance provided to Ukraine by the Agency was over $ 3 billion. The current strategic priorities of USAID's activities in Ukraine include strengthening democracy and good governance mechanisms, promoting economic development and energy security, improving health systems and mitigating the effects of conflict in the eastern regions. For more information on USAID activities, please contact the USAID Mission in Ukraine Public Relations Office at tel. (+38 044) 521-57-53. We also invite you to visit our website: http://www.usaid.gov/ukraine , or our Facebook page: https://www.facebook.com/USAIDUkraine.
About the USAID Financial Sector Transformation Project:
The purpose of the USAID Financial Sector Transformation Project (October 2016 – December 2020) is to help transform Ukraine's financial sector into a transparent, fair and diversified system that supports businesses of all sizes and serves people's needs. The project supports the reform of the financial sector in Ukraine and provides assistance in the following areas: Increasing confidence in the banking sector; increasing access to finance in the non-banking financial sector; expanding the use of electronic finance; reforming the pension system; as well as outreach to vulnerable groups to increase their involvement in the financial markets. Special attention The USAID Financial Sector Transformation Project focuses on financial literacy and consumer protection for financial services consumers to help them gain the confidence, knowledge, information and protection they need to enhance their ability to participate fully in the financial markets.
For more information on the USAID Financial Sector Transformation Project and its activities, please contact the Communications and Public Relations Project Team at +38 0442370210.
Project Page on Facebook https://www.facebook.com/FSTProject/
About the Association of Ukrainian Lessors Association (UUL):
Established in 2005 as a voluntary union of professional leasing market participants, it unites leading industry companies on the basis of partnership, openness, transparency and creation of favorable conditions for the lessee. A trade union is a non-profit organization in accordance with the current legislation of Ukraine. The Association is actively working on fulfilling its statutory tasks, directing its efforts to increase its potential, and its mission is to build a civilized, transparent, European leasing market in Ukraine.
In order to develop international relations, UUL joined the LEASEUROPE Federation in 2005 (comprising 47 national associations of European countries – 92% of the European leasing market). The Association is based on the principles of open membership – full for professional market participants and associate for non-leasing companies. The supreme governing body is the general meeting, and in the period between them the management of affairs is vested in the Board of Directors of the Association. Companies belonging to the UUL represent more than 80% of the Ukrainian leasing portfolio. Facebook page www.facebook.com/leasingUkraine
About NASDSU:
The purpose of the activities of the National Association of Agricultural Advisory Services of Ukraine is to promote the well-being of the rural population and rural development by improving the level of knowledge and practical skills of the rural population and agricultural producers, satisfying and protecting the social, economic, professional and other common interests of the Association members. Additional information about the Association's work can be obtained at: http://dorada.org.ua/ . Facebook page https://www.facebook.com/NAAASUkraine/ If you have any questions, please contact Vasyl Pavlyshynets, manager of NGO "NASSU" by phone: 097 937 88 66 or email: [email protected].