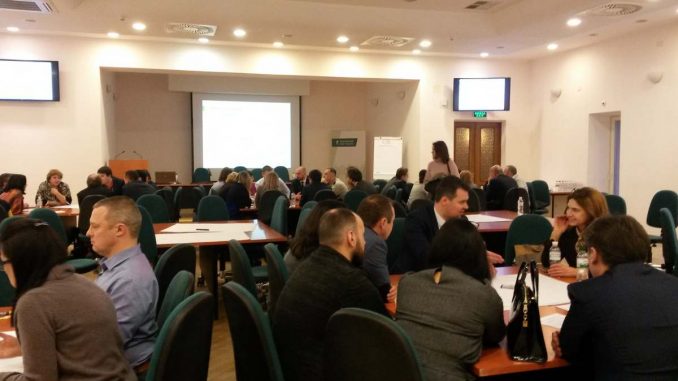 Ukrainian Union of Lessors (UUL) recently participated in a working meeting of the National Bank (NBU) in the World Cafe format. Professional communication was organized by the NBU within the framework of the Split project in connection with the forthcoming transition to the NBU of the powers of regulation of the non-banking financial services market. The main topics of discussion were such areas as Statistics and Reporting and Information Technology.
Representatives of associations and companies of all sectors of the non-banking financial market – leasing, insurance, financial companies, credit unions, pawnshops, credit bureaus, and fintech representatives – joined the discussion in the focus group format. During the discussion, colleagues were able to find both touchpoints and identify pressing issues that distinguish them. Each of the groups had to come up with their own joint list of proposals to the NBU for the sake of improving future interaction with the regulator.

The organizers of the training from the NBU – Maxim Kushch, Deputy Director of the Information Technology Department and Yuriy Polovnyov – Director of the Department of Statistics and Reporting, actively joined the discussion at the group level and moderated it. After that, the speakers from the markets informed the audience of the developed proposals.
Therefore, this roundtable became a new platform for constructive dialogue with colleagues in the related financial markets, which will help the future Regulator to understand the issues of subordinate sectors and offer them the most optimal model of regulation.

Ukrainian Association of Lessors has suggested, among other things, to use for reporting to NBU the same form that UUL provides for Leaseurope.
Reference:
Association "Ukrainian Union of Lessors" – established in 2005 as a voluntary association of professional participants in the leasing market. From the same year, the Association is part of the LEASEUROPE Confederation with its headquarters in Brussels, which brings together the Association of 31 European countries. The Association includes participants that generate 80% of the Ukrainian leasing portfolio.
Contacts:
+38 044 529 46 90
+38 093 381 51 00
uul@uul.com.ua
www.uul.com.ua